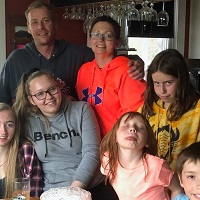 Brothers and Sisters,
Please see the below with regard to Brother Campbell and the
Go Fund Me
that was set up to provide support for his family.
Brother Campbell has significant injuries and is currently in the Regina hospital waiting to be transferred to Winnipeg. We are hopeful for a complete and speedy recovery.
Please join us in donating what you can.
Click here to help Brother Campbell & his family...
Fraternally,
Dave Fulton
Come Together to Help Our Brother
On the morning of September 20, 2019, CP Rail Conductor Trainee Ryan Campbell, age 42, who is currently working out of Brandon, MB, was struck by a train travelling 25 MPH while detraining from a locomotive to perform switching in Estevan, SK. Ryan has sustained serious injuries and will be unable to work for an extended period of time. He is currently hospitalized with a broken pelvis, broken hip and broken ribs.
Ryan and his partner, Marsha have a family of 5 children, ages 17, 16, 13, 11 and 7 years old, that rely on him. Teamsters Division 667, in Brandon, has set up this Gofundme to help lessen the burden financially for Ryan and his family as he begins the long process of recovering from his injuries. We're hoping the strong railroading community will come together to help one of our brothers and help alleviate the burden this will surely cause him and his family. The money raised will be collected by Division 667 Local Chairman Brad Giesbrecht and presented to Ryan Campbell at the end of the campaign.
---
---